Plano celebrates official opening of new tallest building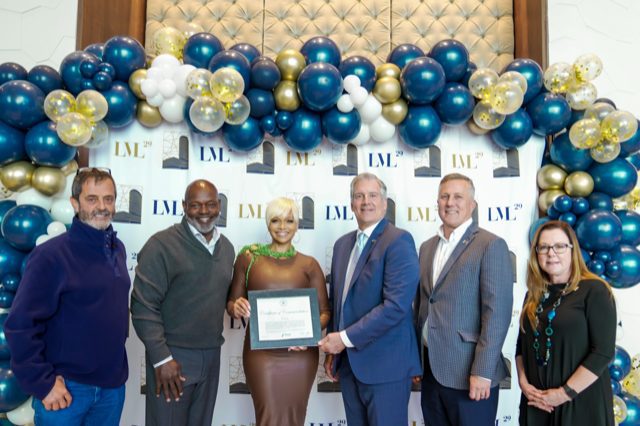 A contingent of dignitaries and city officials came to Legacy West Nov. 19 to celebrate the official grand opening of LVL 29. The 29-story multi-family high-rise at 6000 Columbus Avenue is the tallest building in Plano.
While the building has actually been up for more than a year, the occasion marked the official end of the project. Earlier this month, the 250-acre mixed-use property's event center and dog park were completed.
Former Dallas Cowboy great Emmitt Smith and Pat Smith were among VIP attendees that included Plano Mayor John Muns, City Manager Mark Israelson and City Council Member Julie Holmer. Emerald City Band also performed during the invite-only celebration.
"LVL 29 is one of a kind, from its ellipses-shaped architecture to its towering height as the tallest building in the city," Robin Rowntree, Area Vice President of NE Property Management, said. "We're so proud of this incredible event and welcome our guests to see first-hand the amenities and atmosphere of LVL 29."
Plans for the building were unveiled in 2014.  The first occupants moved in last March, but there was no official celebration due to the onset of the COVID-19 pandemic.  Building occupancy now sits just under 90 percent.
The recently opened dog park and event center occupy three acres between LVL 29 and Windrose Tower. In between is a large open grass space
The dog park was designed to accommodate both large and small animals.  The event center features two pavilions along with mixed-use seating. Everyday use of both facilities is limited to LVL 29 residents.  However, certain events will there be open to the public.